October 17-21, 2018 World Robot Summit 2018 | August / October 2020 World Robot Summit 2020

We carry out total of 9 challenges at WRC in 4 categories
(Industrial Robotics, Service Robotics, Disaster Robotics, and Junior).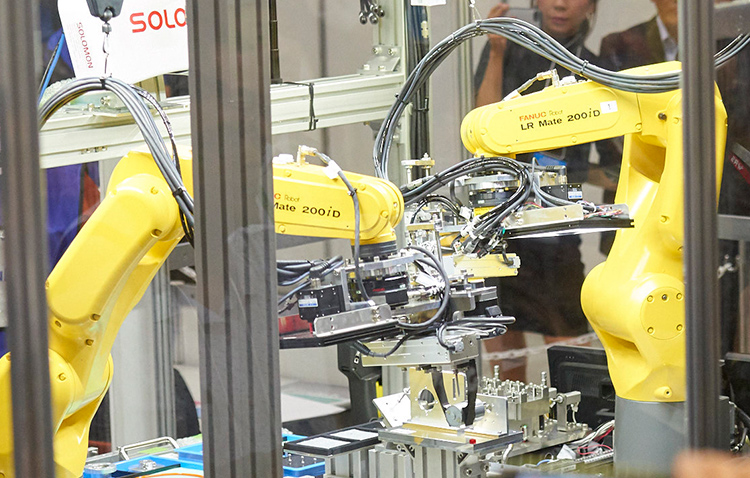 Industrial
Robotics
Category
"Toward agile one-off manufacturing"
This category aims at realizing future manufacturing systems
that can respond to variously changing orders
(ultimately, even an order for a one-off product)
by reconfiguring the system in an agile and lean manner.
Needs in the manufacturing industry: Agile and lean manufacturing systems that can manage the high-mix low-volume production
Objective:"Toward agile one-off manufacturing" ----- Construct a fully-automated robotic assembly system that can respond to variously changing orders (ultimately, even an order for one-off product) by reconfiguring the system in agile and lean manners, without manual teaching and fixtures.
Expected technology elements:Full-automated teaching, recognition and grasping technologies for various parts (including flexible ones), fixtureless-assembly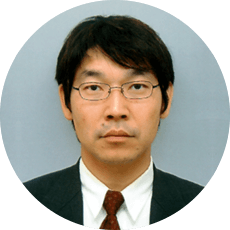 Chairperson, Industrial Robotics Competition Committee
Yasuyoshi Yokokohji
Professor
Department of Mechanical Engineering, Graduate School of Engineering, Kobe University
Industrial robots that have spread rapidly worldwide since the 1980s have played an important role in the field of manufacturing.
Although industrial robots, which are good at accurately repeating the same task but inflexible, had been efficient in mass production era, they have become difficult to meet the demands of high-mix low-volume production in recent years.
Particularly, "assembly" is a difficult task for robots because it takes time to prepare peripheral devices such as part feeders and jigs, and careful teaching is required for precise part fitting. Therefore, many assembling works are performed manually by human workers.
However, labor shortage and labor cost is becoming a serious problem recently both in Japan and abroad, and realization of a robot system that can handle high-mix low-volume production is strongly desired.
Based on this background, we in the WRC manufacturing category expect participating teams to develop a robot system that can automatically generate motion procedures from given product information and can recognize, grasp, and assemble various parts including flexible parts. Ultimately, we aim at "agile one-off manufacturing" where efficient manufacturing is possible even for one-off products by quickly reconfiguring the system without teaching and jigs.
Assembly Challenge
Quick and accurate assembly of model products containing technical components required
in assembling industrial products and other goods
---
Service
Robotics
Category
[Partner Robot Challenge]
The concept is to realize the living environment
where people and robots are able to collaborate.
This challenge is divided into two, real and virtual.
[Future Convenience Store Challenge]
This is the world first challenge aiming to
realize the future convenience store,
where new services are offered to customers through robotics
that can help reduce the burdens of the employees.
Needs in the service industry:deal with a decline in working population due to aging society and mitigate hard burden of clerks and the elderly
Objective:share parts of housework (i.e. cleaning) and retail works (i.e. shelf-stocking and communication with customers)
Expected technology element:collaborative technology between humans and robots
The world first competition to implement service robots available in your town at retail stores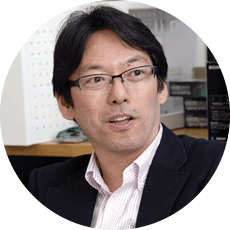 Chairperson, Service Robotics Competition Committee
Hiroyuki Okada, Ph.D.
Executive Director, RoboCup Japanese National Committee
Professor, Tamagawa University, College of Engineering, Department of Information and Communication Technology
I am engaged in cognitive developmental robotics research, with aim of clarifying developmental mechanisms in human cognitive processes using infants and robots.
I am interested in a wide variety of subjects, from language acquisition in infants to speech recognition systems for robots.
My objective is to connect the seemingly unrelated fields of infant research and robotics, and understand the flexible framework of intelligence.
I won the 2008 and 2010 RoboCup world championship (@Home league). I am team leader of RoboCup@Home eR@sers .
Baby science and robots
Seemingly unrelated things connecting these two
It is a supple intelligence mechanism
To create a human friendly robot is the key to understanding people
With this belief, I continue my research
A human's mind that looks beyond robot research
I want to solve the mysteries of the human mind
Partner Robot Challenge
Setting tasks equivalent to housework and making robots
that complete such tasks
Future Convenience Store Challenge
Making robots to complete tasks (e.g.) shelf-stocking and
replenishment multiple types of products such as foods,
interaction between customers and clerks and cleaning restrooms
---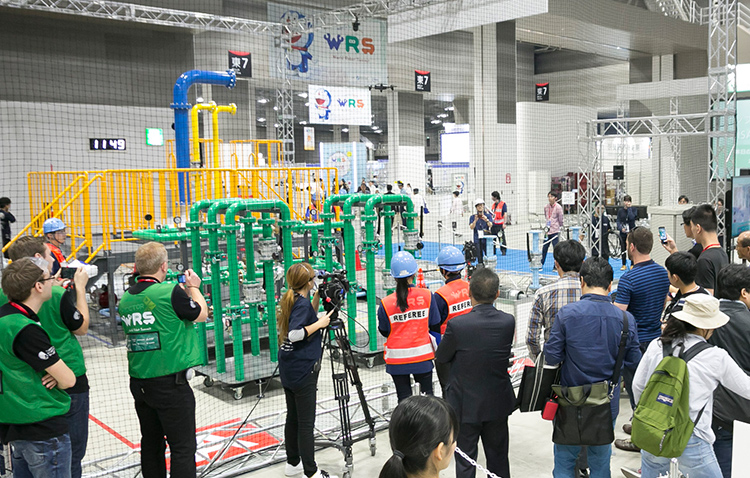 Disaster
Robotics
Category
This category considers problem-solving in the areas of infrastructure,
disaster prevention andresponse, and aims to achieve particularly difficult tasks
such as plant disaster prevention and tunnel disaster response using robots.
Building robot-related consensus among people
The world first competition to deal with tunnel disaster
Needs in the disaster prevention and response:prevent plant disaster and response to tunnel disaster in the places where humans cannot have access
Objective:achieve hard tasks in such places
Expected technology elements:integrated technologies (mobility, inspection, environmental recognition), on-site applicability, linkage with performance evaluation tests
The world first competition to deal with tunnel disaster
Build robot-related consensus among people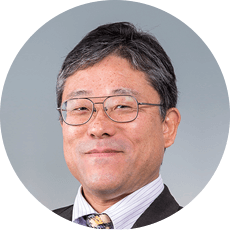 Chairperson, Disaster Robotics Competition Committee
Satoshi Tadokoro
President, International Rescue System Institute
Professor, Tohoku University
President, IEEE Robotics and Automation Society Program Manager, Japan Cabinet Office ImPACT Program
On that memorable day, the strong shake grabbed me roughly by the shoulders. I could not get up by my arms and legs. The line between life and death was thin as a knife edge. Lives dead, lives saved, and lives fed to the fire, were seen right under our nose. Can robotics pin the faint hope to keep happy daily lives? What values can robotics present for avoiding death in disasters? How can robotics promote our safety and security? This competition shall give a clue to the answers.
Plant Disaster Prevention Challenge
Inspecting or maintaining infrastructures based on set standards (e.g. opening/closing valves)
Tunnel Disaster Response and Recovery Challenge
Collecting information and
providing emergency response in
case of a tunnel disaster
(e.g. life-saving, removing obstacles from tunnels)
Standard Disaster Robotics Challenge
Assessing standard performance levels
(e.g. mobility, sensing, information collection, wireless communication, remote control on-site deployment, durability, etc.) required in disaster prevention and responses
---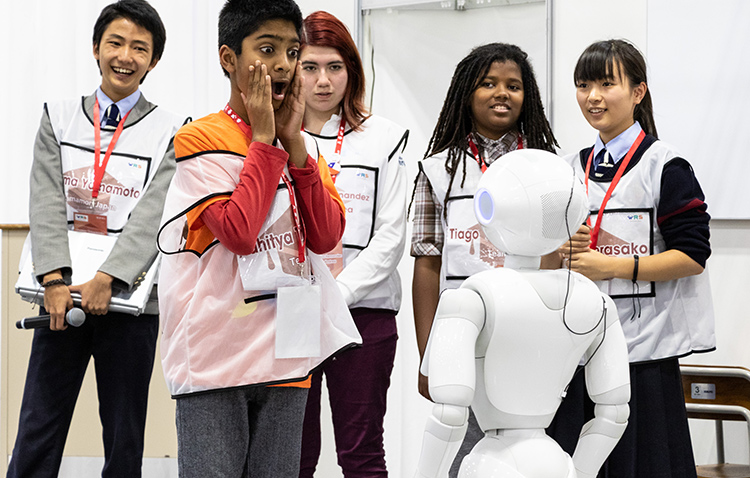 Junior
Category
This category will foster a young generation who can contribute to the future
where robots and humans live and work together.
Objective:Human resource development for youth
Compete open task under real environment, teamwork and developing process
Utilize a standard robot platform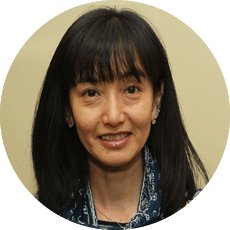 Chairperson, Junior Competition Committee
Dr. Amy Eguchi
RoboCup Federation, Vice President representing RoboCupJunior, Board of Trustee member / Associate Professor of Education, Bloomfield College
We are living in a transitional era when human-robot co-existence is rapidly becoming a norm in society, similar to how personal computers and smartphones became such integral parts of our lives, whether we were ready for them or not. World Robotic Summit – World Robot Challenge Junior Category aims to provide unique opportunities for students from around the world to imagine robots coexisting in their everyday life, create and realize their dream collaboration with robots in their everyday setting, either at home or school. World Robot Challenge Junior Category attracts young roboticists who are interested in programming and/or engineering robots to become active users and creators of future robots.
---
These graphics are posted for illustrative purposes only.
The actual design may differ due to future changes in operational plans.