October 17-21, 2018 World Robot Summit 2018 | August / October 2020 World Robot Summit 2020

The WRE is an exhibition held along with the WRC robotics competition
and provides a glimpse of the future with robot technology incorporated in society.
Examples of robot introduction being promoted by companies,
organizations and local governments are displayed and calling visitor's attention to the future of robots.
Side events are also planned, including lectures by Japanese and foreign experts.
Image of exhibition (WRE2018)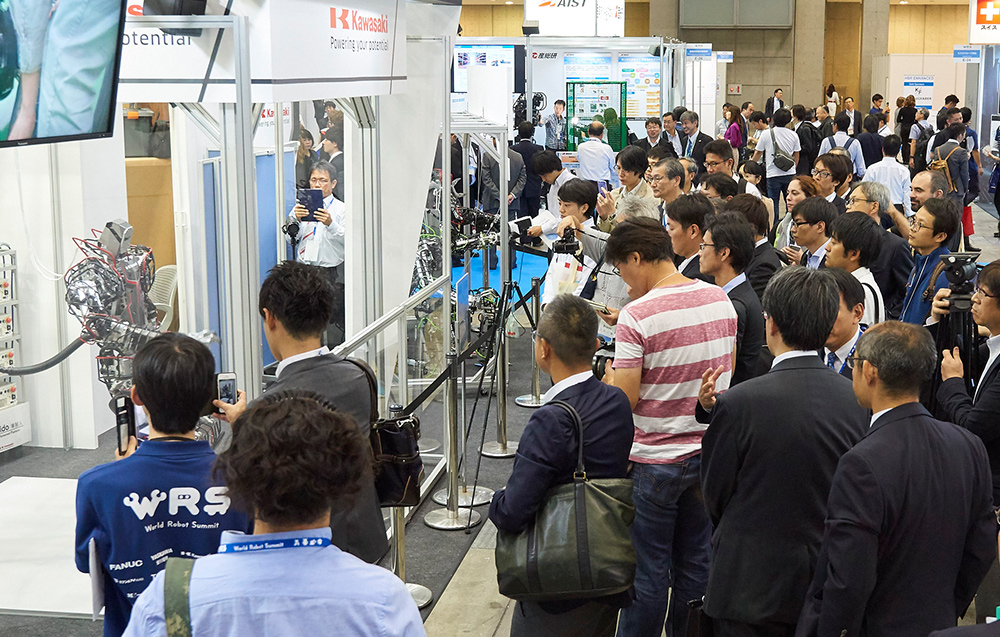 Visitors will have chance to come in contact with and experience the latest robots at participating organizations and companies' booth at the exhibition.
There will be also "Regional exhibition" organized by local governments, which will introduce progressive efforts and examples of utilization of robots in local area.
Exhibition Categories (Examples)
Industrial Robotics
Castegory

(e.g.) Manufacturing, Agriculture, Forestry, Fishery, and Food industrial robots/ Robot-related technological elements/ Related equipment/ Simulation/ Software

Service Robotics
Category

(e.g.) Nursing, Medical care and Educational robots/ Robot-related technological elements/ Related equipment/ Software

Disaster Robotics
Category

(e.g.) Infrastructure, Disaster Response, and Construction robots/ Robot-related technological elements/ Related equipment/ Software

Junior
Category

Program Course, Assembly Course, Contest, Entertainment
Prior to the 2020 World Robot Summit final,
World Robot Summit 2018 in Tokyo