October 17-21, 2018 World Robot Summit 2018 | August / October 2020 World Robot Summit 2020
World Robot Summit 2018
Report
WRS2018
(Tokyo)
October 17-21, 2018
Visitors : 76,374
Day1

(10/17) :


17,903

Day2

(10/18) :


19,595

Day3

(10/19) :


23,397
Day4

(10/20) :


7,912

Day5

(10/21) :


7,567
Dates

October 17-21, 2018, 10:00 a.m. - 5:00 p.m.

Venue

Tokyo Big Sight East Hall 6/7/8

Hosted by

Ministry of Economy, Trade and Industry (METI)
New Energy Industrial Technology Development Organization (NEDO)

Admission fee

Free (Registration)

Visitors

76,374
WRC2018 LIVE VIDEO
ARCHIVE
Click Here

WRC2018 LIVE VIDEO ARCHIVE

World Robot Summit 2018
Opening Ceremony
October 17, 2018, 9:45 a.m.
Venue:
Tokyo Big Sight East Hall 6
Main Stage

World Robot Challenge 2018
Award Ceremony
October 21, 2018, 3:00 p.m.
Venue:
Tokyo Big Sight East Hall 6
Main Stage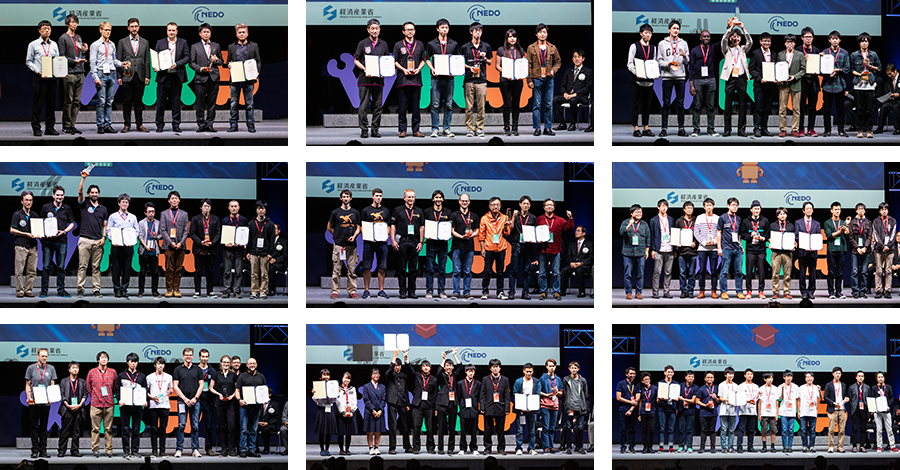 World Robot Challenge 2018
October 17-21, 2018
Venue:
Tokyo Big Sight East Hall 7/8
The World Robot Challenge (WRC) was held a competitive event made up of four categories: Industrial Robotics, Service Robotics, Disaster Robotics, and Junior. By providing a venue for high-level robot technology to come together from around the world, the competition helps to speed technology development, shows robots solving actual issues, and promotes social implementation.

World Robot Expo 2018
October 17-21, 2018
Venue:
Tokyo Big Sight East Hall 6
The WRE was feature displays and demonstrations of the newest robotic technology used in corporate, organizational, and municipal settings. The WRC competitive event was held at the same venue, so that competition participants, exhibitors, and visitors were able to mingle. The event aims to work towards achieving a society where humans and robots can cooperate and coexist.

Stage Programs /
experience & Demonstration Programs
October 17-21, 2018
Venue:
Tokyo Big Sight East Hall 7/8
The event was held also feature stage programs with experts and people involved with robots from both Japan and overseas, presentations by sponsor corporations, and workshops. There was also be an interactive exhibit area where visitors can experience the newest robotic technology and more for themselves.